Basic Pasta Dough
Ingredients
2

cups

All Purpose Flour

3

eggs

1

tbps

olive oil
Instructions
On a large work surface, form a mound with the flour and create a "well" in the center of the mound. In a small bowl, beat the eggs and oil together until smooth. Pour this mixture into the well. Working from the inside of the well out, gradually work the flour into the eggs, until all the flour is worked in. If dough is too dry add a teaspoon of water at a time. Cover and allow to rest for about 20 minutes. Flour a surface and turn the dough out onto it. Roll out the dough to 1/2-inch thick. Cut the dough out into thirds. Using a pasta machine, wide cutters, carefully work one piece of the pasta dough through the pasta machine. Pass the remaining pieces of pasta through the machine. Set the machine to roll out the pasta to the desired thickness. Catch the strips from underneath the machine before the sheet goes completely through the rollers and put the cut strips lightly on clean white sheet or let them hang over the top of straight-backed chairs or on hangars. Let the pasta dry for 5 minutes, before cooking. Or let dry and store to cook at another time.

Passatelli Soup
Ingredients
3

large

eggs

3

tbps

Butter

2

cups

Bread Crumbs

Italian or French Bread

1/2

cup

Grated Romono Cheese

1/2

cup

Grated Parmesan Cheese

1

zest

lemon

1/2

tsp

Nutmeg

2

quarts

Chicken Broth
Instructions
Mix eggs, butter, breadcrumbs, nutmeg, lemon zest and cheese with your hands. Mixture must be pliable but firm. Using a meat grinder, put mixture by handfuls into it. (Using the largest size cutter). If mixture is to dry add a little chicken broth. Let the noodles land on a plate cutting the noodles as they leave the grinder at about 2 inch strips. Drop into boiling broth. Simmer until tender...just a few minutes. Sprinkle with grated cheese. Passatelli can be carefully layered between wax paper sheets and frozen then bagged for later use.

Easter Cheese Bread (Crescia de Pasqua)
Ingredients
6-7

cups

Sifted All Purpose Flour

2

cups

Grated Romano or Parmesan Cheese

or half of each

1

tsp

Salt

1-2

tsp

Pepper

as desired

1 1/2

cups

Milk at 105° F

6

pkgs

Dry Yeast

1

tsp

Sugar

1

stick

Butter

softened

8

large

Eggs

1

Egg White
Instructions
In a large bowl, mix together the flour, cheese, salt, and pepper.

In a small bowl, add the warmed milk, the dry yeast, sugar, and butter and let dissolve to proof the yeast for a few minutes.

Add the milk/yeast mixture to the flour/cheese mixture.

Slightly beat the 8 eggs in a separate bowl and add to the combined mixture combining everything with a wooden spoon in the large bowl.

Turn onto a floured surface and knead until smooth and not too sticky. This is a stiff dough.

Place dough in a greased/floured pan. The pan should be approximately 9" wide and deep enough to handle the high rising of the risen dough.

Cover the pan with saran wrap and let rise for approximately 1 hour in a 150 F oven. Spritzing the oven with a water spray can help the rising process. When sufficiently high remove the wrap and raise oven to 350 without moving the pan and bake for 40-50 minutes more depending on the oven and pan thickness. It's done when it has pulled away from the side of the pan slightly and has a light tan color.

Five minutes before the pan is removed from the oven paint the top of the crescia bread with an egg white for a nice glaze.

Remove the pan from the oven and let cool on a rack. Then, carefully remove the crescia from the pan onto a wire rack until completely cooled. Then wrap it in 2 layers of foil. It is best stored in the refrigerator.

It can be enjoyed more the following day.

Enjoy this dessert bread sliced with coffee for breakfast or after dinner. It can be also toasted.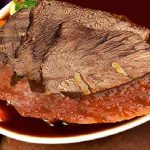 Pasticciata (Classic Northern Italian Roast)
Ingredients
4-5

lb

Chuck Roast

or Top Round, or Bottom Round

5

whole

Cloves Garlic

Olive Oil

or Pancetta

8-10

whole

Cloves

the spice

Pepper

to taste

No Salt

1-2

glasses

Red or White Wine

few

oz

Tomato Paste - for color

(optional)

Water
Instructions
Make small slits in meat and insert garlic cloves and the spice cloves.

Place olive oil or pancetta on the bottom of a heavy dutch oven pan. Place meat

in the pan. Pour wine over the roast. Add pepper to taste, and the tomato paste

if desired. Add plain water to almost cover the roast. Bring water to boil and

simmer for 3 hours or until meat is tender when tested with a fork.

Turn meat once while cooking. Add more boiling water as needed to keep the level up.

When the meat is cooked remove from pan and let cool.

Remove the cloves and garlic. Slice the meat into 1/4 inch thick slices and place in a casserole in layers.

Strain the juice over the meat and refrigerate until ready to use.

This can be done a day or more before serving day.

When ready to serve, remove any hardened fat from the top, and sprinkle the top

with 2-3 tablespoons of grated Italian cheese. Cover the casserole and bake at

350 for approx. 1 hour. Uncover and bake for another 30 minutes.

Serve hot with peas, mushrooms, and mashed potatoes.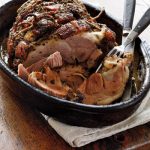 Porchetta (Roast Pork)
Ingredients
1

Boneless Pork Shoulder (3 3/4 to 4 lb.)

skin on, not tied

20

Fresh Sage Leaves

3

Leafy Sprigs Fresh Thyme

leaves removed

3

Leafy Sprigs Rosemary

stemmed

2

Garlic Cloves

peeled and roughly chopped

2

tbsp

Fennel Pollen

1 1/2

tsp

Medium Coarse Sea Salt

1 1/2

tsp

Freshly Cracked Black Pepper

2

tbsp

Olive Oil

extra virgin

1/2

cup

Dry Red or White Wine
Instructions
Heat oven to 250ºF.

With a sharp knife, score pork skin in a crosshatch diamond pattern, making 1/8-inch- deep cuts, about 1 inch apart.

Finely chop thyme, sage, rosemary, and garlic together (you can do this by pulsing in a food processor, or by hand). Place mixture in a small bowl, add fennel pollen, salt, and pepper and stir together well.

With a paring knife, make about 10 incisions (about 1/2-inch deep) all over the pork and stuff with about 1/3rd of the herb mixture. Tie pork with kitchen twine, brush the oil over the skin, and rub all over with the remaining herb mixture.

Set pork in a roasting pan, fat-side up. Roast for 2 hours. Pour the wine over the pork and baste with the wine and accumulated juices. Continue roasting, basting once every hour, until the skin is well browned and the meat is spoon tender, 2 1/2 to 3 hours more (internal temperature will be 170ºF to 180ºF) Remove from oven. Let meat rest 15 minutes before slicing and serving.